Speakers and Abstracts
Speakers are listed in the order of the programs' sessions)
Lecture 1: Artificial Intelligence in Medical Education: Today and Tomorrow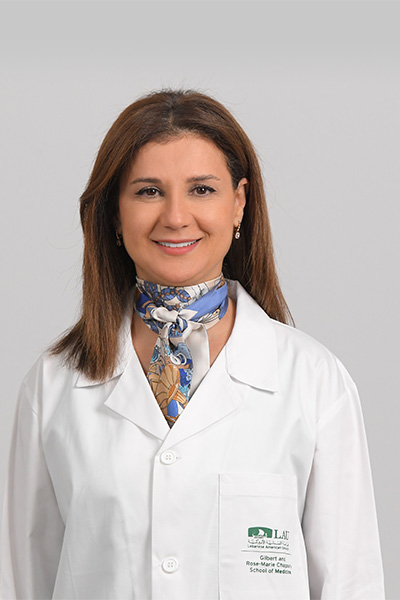 Sola Aoun Bahous, MD, PhD, MHPE
Dr. Sola Aoun Bahous is an experienced nephrologist with expertise in the evaluation and management of hypertension. Holder of a Ph.D. degree in Cardiovascular Pharmacology from Pierre and Marie Curie Paris VI University in France, Dr. Aoun Bahous manages complicated and resistant hypertension cases, in addition to hypotension cases. She performs many non-invasive procedures to assess arterial stiffness and central pressures and conducts extensive research in the field.
Dr. Aoun Bahous joined the LAU Gilbert and Rose-Marie Chagoury School of Medicine in 2008 as a founding member, where she participated in the development of the M.D. program. She then moved her clinical practice to LAU Medical Center-Rizk Hospital in 2011 and was appointed Assistant Dean for Clinical Affairs. She developed the clinical curriculum at the school and continues to teach and lead curricular design, student assessment and program evaluation. She was appointed as Associate Dean for Medical Education in September 2019, in charge of the undergraduate medical education program. Dr. Aoun Bahous is a strong education professional with a recently acquired master's degree in Health Professions Education from the University of Illinois at Chicago College of Medicine to combine experience and expertise in medical education. She has significant experience in accreditation and strategic planning at both the university and school levels.
Dr. Aoun Bahous is a member of the American Society of Nephrology, the European Renal Association, and the Association of Medical Education in Europe. She recently joined the International 24 Hour Aortic Blood Pressure Consortium.

Abstract
Artificial Intelligence (AI) is revolutionizing medical education today, empowering educators to deliver personalized learning experiences and enhancing clinical decision-making. Looking ahead, AI holds the potential to further transform medical education with immersive simulations, improved surgical assistance, and reduced medical errors, shaping the doctors of tomorrow with knowledge and the power of intelligent machines.
Lecture 2: Unlocking the Potential of AI in Healthcare: Safety, Ethics and Integration into Medical Education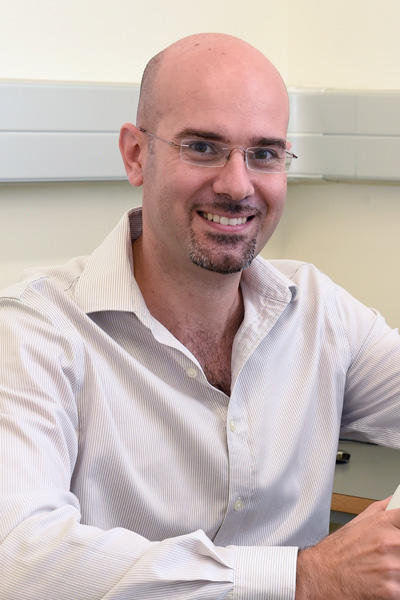 Barbar Akle, PhD
Dr. Barbar Akle is Associate Provost for International Education and Programs. In his capacity, he assists the Provost with duties related to strategic planning, faculty affairs, research-support activities, policies and procedures, innovation and external projects, and other academic activities and initiatives.
Prior to his role in the Provost's Office, Dr. Akle was Associate Professor and Assistant Dean at the School of Engineering. He is a Mechanical and Mechatronics Engineer by trade, having received his B.E., M.E. and Ph.D. in the subject, the first at the American University of Beirut, and the second two at Virginia Polytechnic Institute and State University in the US.
Within the School of Engineering, Dr. Akle was active in a variety of student and external projects that shed light on the talent and resources at LAU. He was present at major events, conferences and signings on behalf of the SOE, and reached out to other LAU schools and outside universities and institutions to further the School of Engineering's standing and offerings.
His main research is focused on improving, modeling and characterizing Electro-Active Polymers (EAP), which are also known as artificial muscles. His work has led to a better understanding of Ionic Polymer Metal Composites (IPMC) and to the development of applications such as robotic jellyfish and wall shear stress sensors. He is currently working on developing Inner Ear Hair Cell sensors for the hearing disabled and highly efficient buoyancy engines. He is also leading new research to develop a low-cost and healthy exoskeleton system for the paralyzed, and is working with CERN to develop magnetic field resistant robots.
Dr. Akle has published more than 80 peer-reviewed international articles and authored five US patents. He is also an associate editor of the Journal of Intelligent Material Systems and Structures (JIMSS) and a member of the ASME Adaptive Structures and Material Systems Technical Committee.
Abstract
The use of Artificial Intelligence (AI) in healthcare has the potential to revolutionize the industry, but it also presents ethical and safety challenges that must be addressed. In this presentation, we will take a deep dive into the world of AI and its unique features compared to traditional software and statistical tools. We will explore various AI algorithms, from decision trees to neural networks, and show how they can be effectively integrated into medical education through modules and courses from our new online MS program.
However, we must also acknowledge the potential for bias and approximation errors that can arise during the design and implementation of AI algorithms. Understanding the entire development process is essential to ensure that AI systems are fair, unbiased, and safe for patients.
Beyond understanding and educating the future generation of Medical Doctors about AI in healthcare, we must prioritize ethical principles and safety considerations. AI algorithms can produce unintended consequences that may harm patients, so we must approach the integration of AI into healthcare with caution and care. Our students must learn how to use AI technologies to improve patient care and communication while being aware of their limitations and potential risks. Autonomy and accountability are critical considerations when using AI, and we must equip our students to make informed decisions and take responsibility for their actions.
Lecture 3: Advancing in Medical Education: Exploring New Trends in Assessment Methods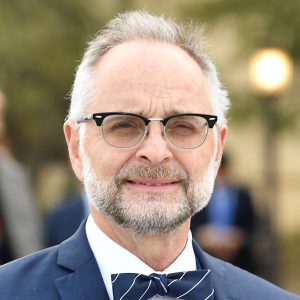 John (Jack) Boulet, PhD
Dr. Boulet recently retired from the positions of Vice President, Research and Data Resources, for both the Educational Commission for Foreign Medical Graduates (ECFMG®) and the Foundation for Advancement of International Medical Education and Research (FAIMER®). Dr. Boulet holds a B.Sc. in Mathematics from the University of Western Ontario and both a M.A. and Ph.D. in Education, specializing in measurement and evaluation, from the University of Ottawa. He is a Senior Scholar at the University of Illinois at Chicago, College of Medicine, an Adjunct Professor of Medicine at the F. Edward Hebert School of Medicine, Uniformed Services University, and a Fellow of the Society for Simulation in Healthcare. He is also a Consultant for the LAU Gilbert and Rose-Marie Chagoury School of Medicine.
Over the past 25 years, Dr. Boulet has worked on the development of performance-based credentialing assessments in medicine. He has published extensively in the field of medical education, focusing specifically on measurement issues pertaining to performance-based assessments, including objective structured clinical examinations (OSCEs) and various mannequin-based evaluation methodologies. In his role with FAIMER, he has also investigated workforce issues, concentrating on the characteristics of international medical education programs, the structure and value of accreditation systems, the international migration of health care workers, the contribution of international medical graduates (IMGs) to the labor force in the United States, and the quality of care provided by IMGs. Dr. Boulet currently serves on the editorial boards for Advances in Health Sciences Education: Theory and Practice, Education for Health, and Simulation in Healthcare. He is a Deputy Editor for Medical Education.
Abstract
The use of Artificial Intelligence (AI) in medical education has the potential to facilitate complicated tasks and improve efficiency. For example, AI could help automate assessment of written responses, or provide feedback on medical image interpretations with excellent reliability. While applications of AI in learning, instruction, and assessment are growing, further exploration is still required.