Find a Doctor
Finding the right physician is one of the most important steps in managing your healthcare. Our physician finder tool simplifies the process and gets you in touch with a doctor that meets your specific needs. You may search by name, specialty or condition below.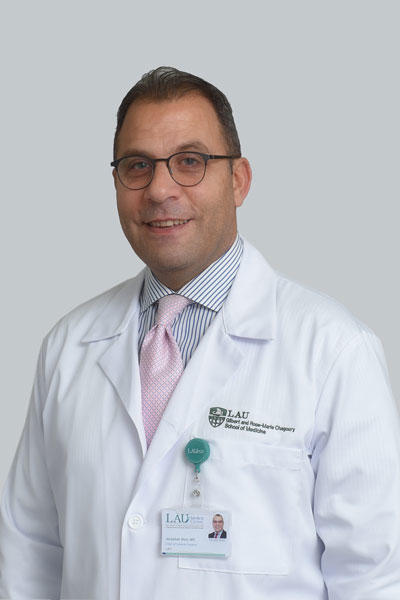 Abdallah Slim, MD Clinical Associate Professor Hepatobiliary SurgeryMinimally Invasive and Bariatric SurgerySurgical Oncology Surgery oncology, organ transplant, hepatobiliary, general surgery, mini-invasive surgery, transplant complications, liver cancer, biliary tract cancer, pancreatic cancer, colon and rectal cancer, gastric cancer, esophageal cancer, kidney cancer, retroperitoneal cancer, kidney failure, liver failure, portal hypertension, bile duct obstruction, bile duct cancer, pancreas disease, stomach cancer


Abdo Saad, MD Clinical Assistant Professor Gastroenterology Internal Medicine Inflammatory bowel disease, motility disorders, reflux disease/GERD, dysphagia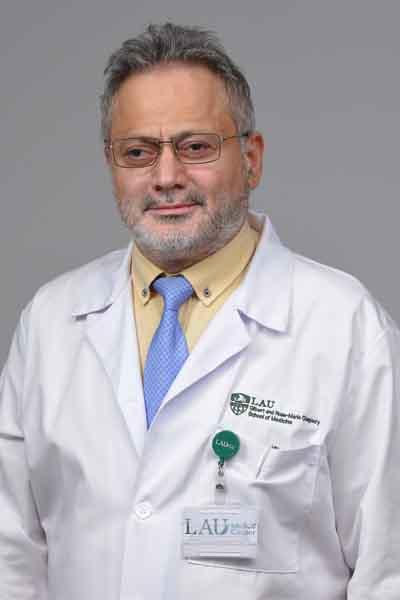 Abdul Rahman Shatila, MD Clinical Assistant Professor Neurology General neurology, stroke, epilepsy, headache, neuromuscular disorders, clinical neurophysiology, multiple sclerosis, neuro-ophthalmology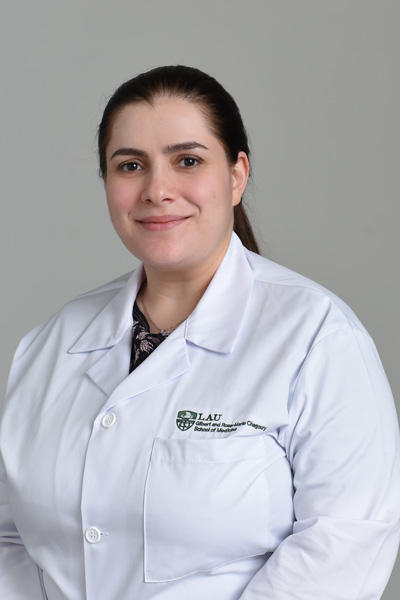 Abeer J. Hani, MD Clinical Assistant Professor Pediatric Neurology NeurologyPediatrics Child neurology, seizures, epilepsy, headaches, developmental delay, neurologic disorders, pediatric neurologic disorders, EEG, intraoperative monitoring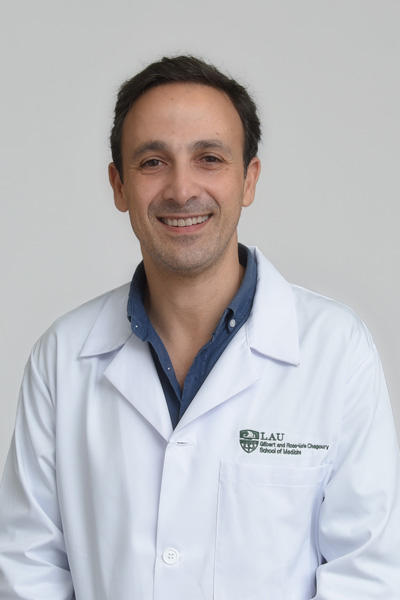 Alain Sayad, MD Clinical Assistant Professor General PediatricsPediatric Gastroenterology Pediatrics pediatric GI, reflux, GERD, abdominal pain, milk protein allergy, celiac disease, inflammatory bowel disease, IBD, Crohns disease, constipation, failure-to-thrive, FTT, hepatic disorders, liver disease, pediatric endoscopy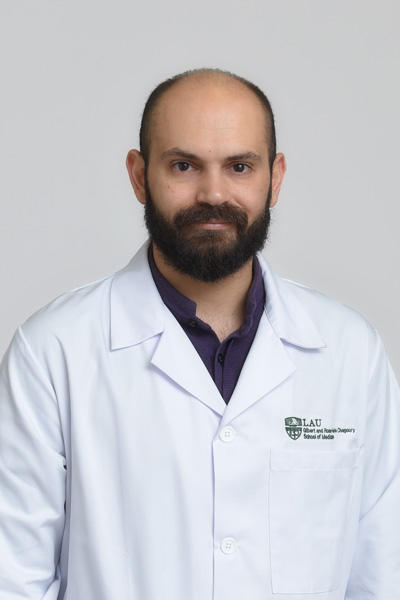 Alain Tanios, MD Clinical Instructor Emergency Medicine Internal Medicine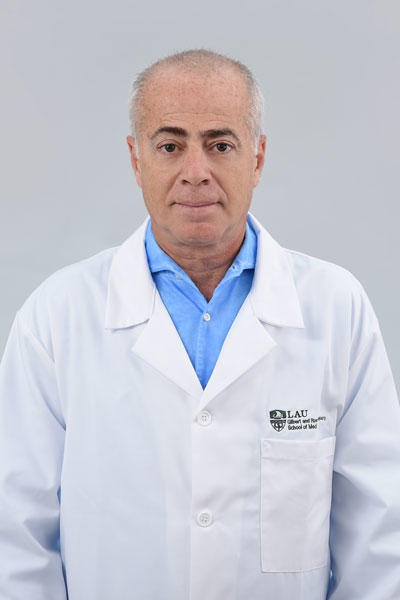 Alfred Khoury, MD Clinical Assistant Professor Orthopedic Surgery and Trauma sports injury, knee injury, ACL and revision ACL, knee osteotomy, TKA / knee joint replacement, knee cartilage surgery, ACL injury, meniscus injury, knee cartilage injury, knee osteoarthritis, degenerative arthritis of knee, knee arthritis, knee pain, meniscus tear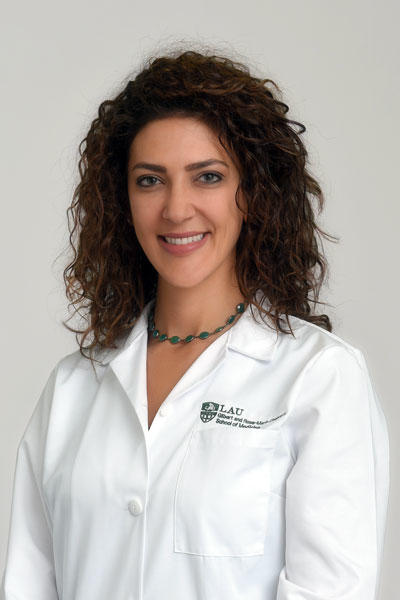 Ama Sadaka, MD Clinical Assistant Professor Ophthalmology ophthalmology, neuro-ophthalmology, oculoplastic surgery, eye doctor, cataract surgery, blepharoplasty, double vision, eye diseases, eye infection, cosmetic eyelid disorders, excessive tearing, cataracts, vision loss, woman physician, low vision, dry eye, drooping eyelid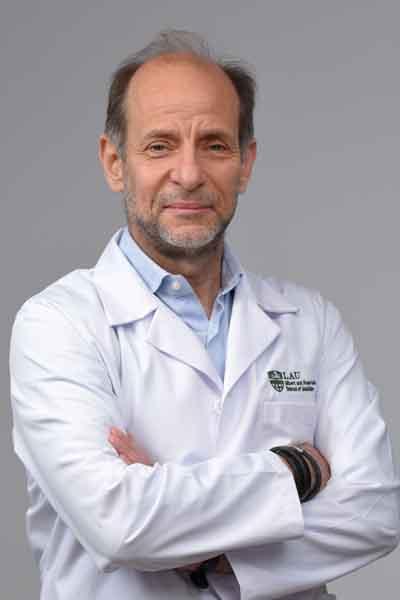 Andre Megarbane, MD, PhD Professor
Human GeneticsPediatrics Genetics, orphan diseases, genes, malformations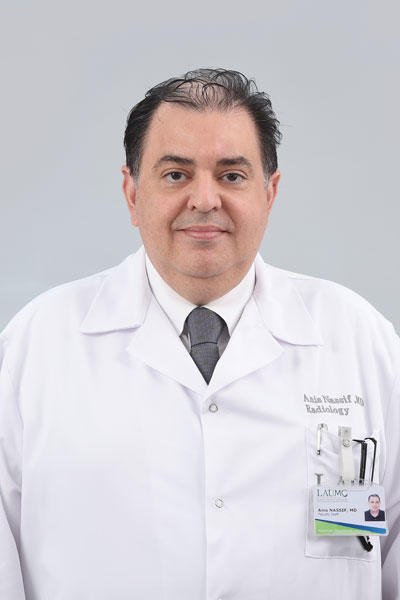 Anis Nassif, MD Clinical Assistant Professor Interventional Neuroradiology Medical Imaging neuro-MRI, MR spectroscopy, brain tumor imaging, brain tumor, stroke, thrombectomy, thrombus, stroke center, aneurysm, arteriovenous malformation, AVM , neurovascular imaging, spine imaging, spine interventional radiology, carotid stent, carotid disease, spine disorders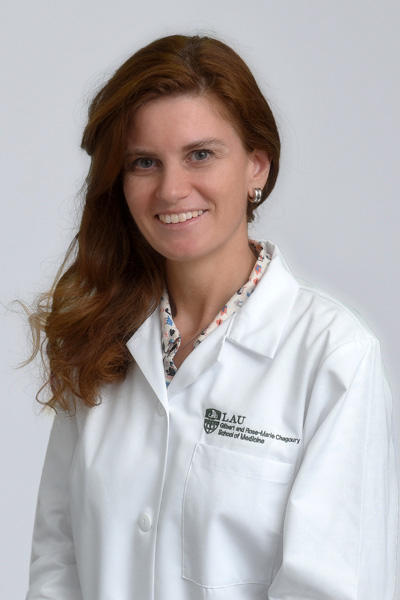 Anna Farra, MD, PhD Clinical Assistant Professor Infectious Diseases Internal MedicineMicrobiology & Immunology infection, infectious diseases, antimicrobial resistance, antimicrobial stewardship, bacteriology, resistant organism, virus infection, bacterial infection, coronavirus, COVID 19

Bassam Gerges, MD Clinical Instructor Anesthesiology Anesthesiology, preoperative medicine, anesthesia outside the OR, NORA


Camille Samaha, MD Clinical Assistant Professor Orthopedic Surgery and Trauma Orthopedic surgery, spine, spinal surgery, trauma, fracture, vertebra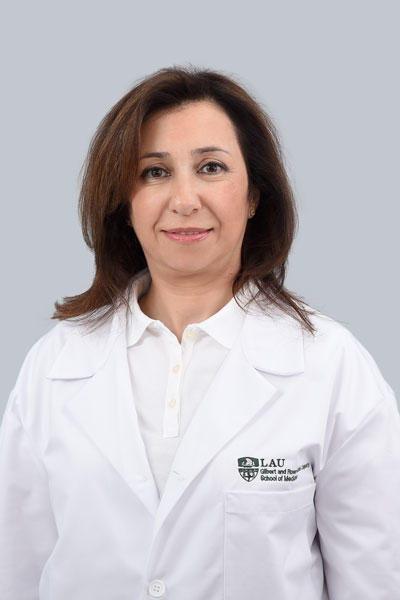 Caroline Chahine, MD Clinical Instructor Anesthesiology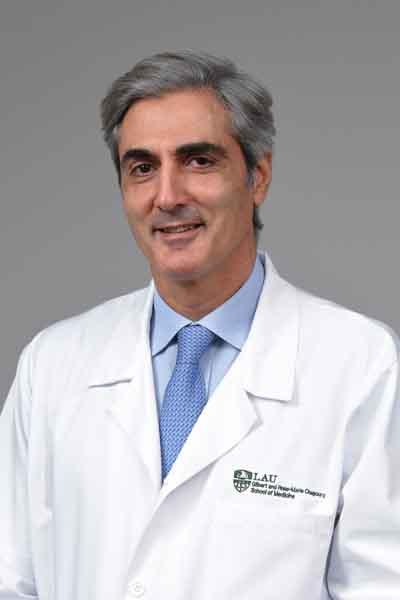 Chahine Assi, MD Clinical Associate Professor
Acting Chair, Department of Surgery Orthopedic Surgery and Trauma degenerative spine disease, scoliosis, hip and knee osteoarthritis, rotator cuff tear, shoulder dislocation and instability, hallux valgus, meniscal tear, ligament tear, hip pain, knee pain, hip arthritis, knee arthritis, spine injury, scoliosis, disc disease, dislocated shoulder, meniscus tear, trauma, sprained ankle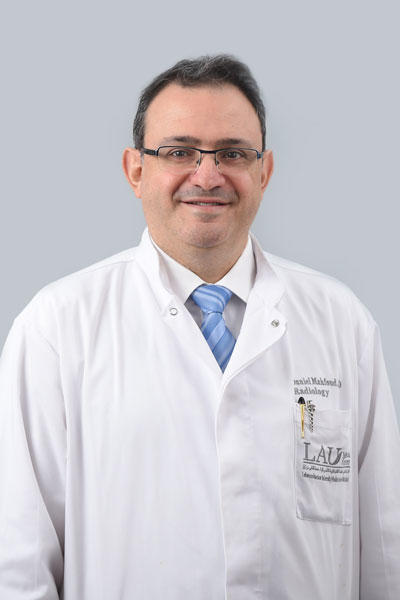 Daniel Mahfoud, MD Clinical Assistant Professor Diagnostic Radiology Medical Imaging Ultrasound, Thyroid, Obstetrical and Gynecological ultrasound, Musculoskeletal ultrasound, Joint pain, Sports injury, Body imaging, Interstitial lung disease, Chest imaging, Prostate biopsy, prostate disease, thyroid nodules, thyroid enlargement, obstetrical conditions, gynecologic conditions


Dany Gaspard, MD Clinical Assistant Professor Internal Medicine Pneumonia, asthma, chronic obstructive pulmonary disease, copd, lung cancer, lung fibrosis, interstitial lung disease, bronchoscopy, endobronchial ultrasound, ebus, pulmonary stent, pulmonary function tests, pfts


Edouard Sayad, M.D Clinical Assistant Professor General PediatricsPediatric Pulmonology Pediatrics Pediatrics, immunizations, well child, pediatric lung diseases, asthma, cystic fibrosis, pediatric pulmonary hypertension, bronchoscopy, chronic cough, chronic lung disease, sleep related breathing disorders, exercise induced breathing disorders, rare lung disease, pulmonary hemorrhage, spirometry, pneumonia, pneumothorax, vocal cord dysfunction.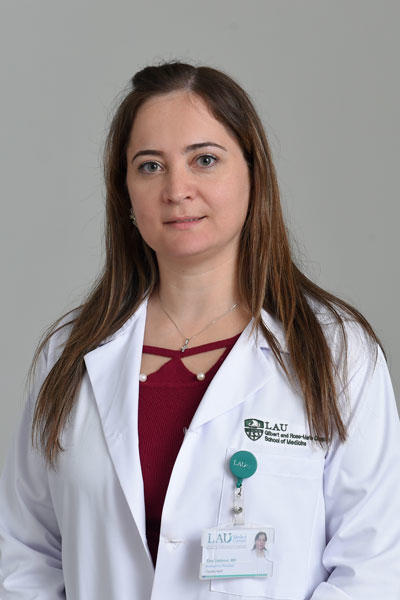 Elsy Jabbour, MD Clinical Instructor Emergency Medicine Internal Medicine Emergency, pain, traumatic injury, dyspnea, palpitation, confusion, weakness, paresthesia, wound, fever, fatigue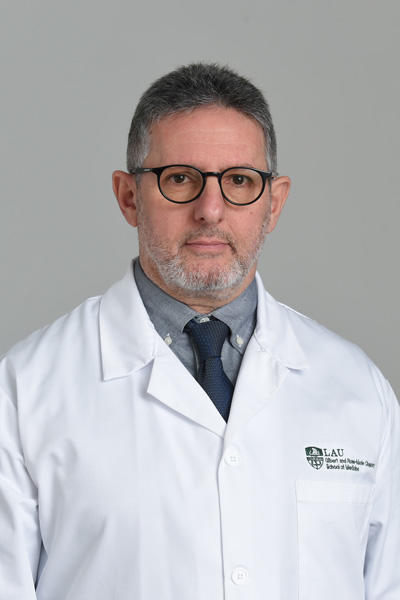 Fayez Abillama, MD Clinical Assistant Professor Critical Care MedicinePulmonary Diseases Internal Medicine critical conditions, intensive care, anesthesiology, nutrition, ethics, organ donation


Georges El Khoury, MD Clinical Assistant Professor General SurgeryMinimally Invasive and Bariatric Surgery Minimally Invasive and Bariatric SurgerySurgery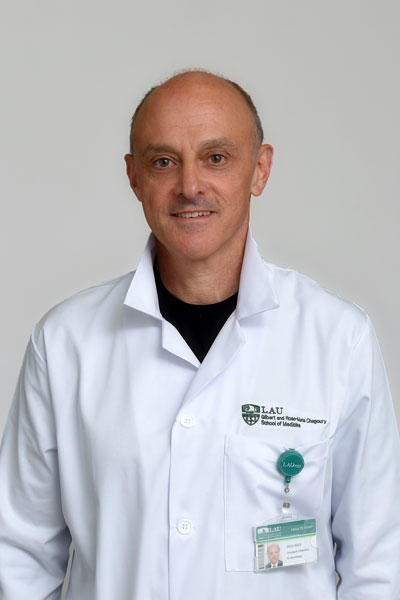 Georges Ghanem, MD Clinical Professor Cardiology Internal Medicine acute coronary syndrome, congenital heart disease, coronary artery disease, mitral valve disease, blocked stent, coronary angioplasty & stenting, rotablator, IVUS, FFR,trans-septal catheterization, balloon valvuloplasty, TAVR, mitraclip, TMVI, congenital heart disease interventions, heart attack, M.I., myocardial infarction, chest pain, heart failure, CAD, valve disease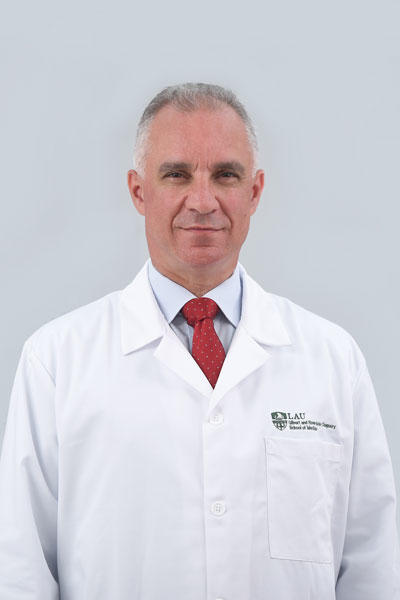 Georges Yared, MD Clinical Assistant Professor Obstetrics and Gynecology ob-gyn endoscopy, ob-gyn ultrasound, endoscopy in gynecology, simulation-based education, obstetrical conditions, gynecologic conditions, pregnancy, tubal pregnancy, ovarian cyst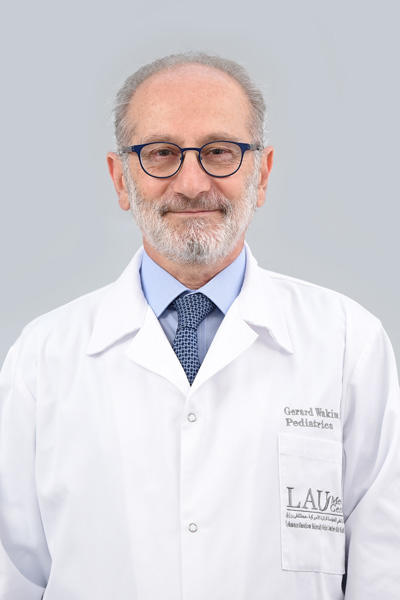 Gerard Wakim, MD Clinical Assistant Professor General Pediatrics Pediatrics clinical pediatrics, pediatric conditions, diseases of childhood, well child visit, vaccination, childhood rashes, ear infection, otitis media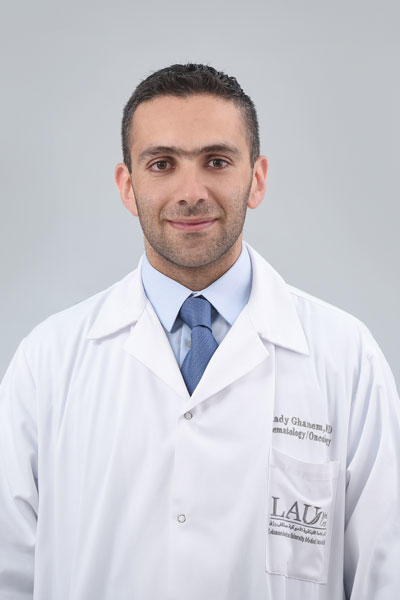 Hady Ghanem, MD Clinical Associate Professor Hematology-Oncology Internal Medicine hematology, oncology, cancer, leukemia, lymphoma, myeloma, immunotherapy, molecular genetics, benign hematology, thrombophilia, bleeding disorders, hematologic malignancy, bone marrow disorder, hematologic disease, thalassemia, sickle cell disease, anemia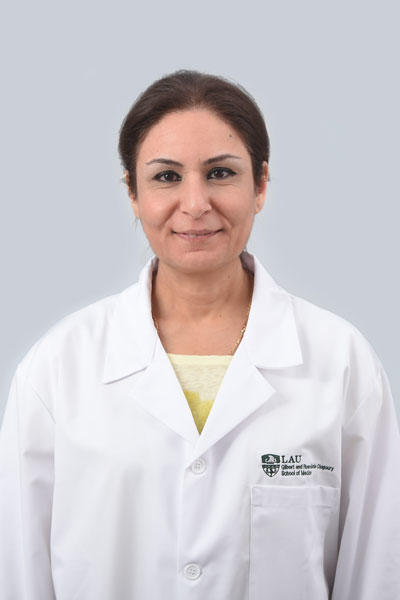 Hala Kilani, MD Clinical Assistant Professor Nephrology Internal Medicine acute kidney injury, chronic kidney disease, hypertension, clinical nephrology, glomerular diseases, hemodialysis, peritoneal dialysis, kidney transplantation, kidney failure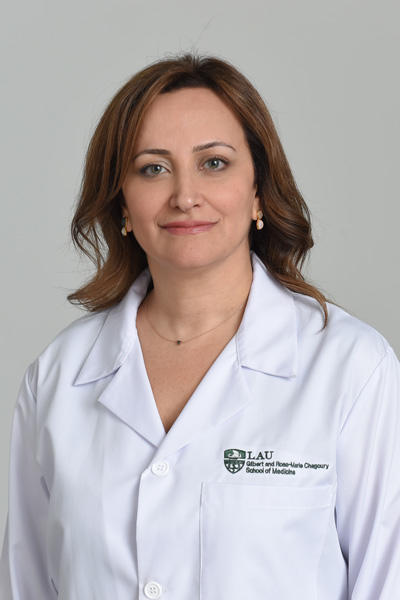 Hanane Barakat, MD, MHM Clinical Assistant Professor Anesthesiology Regional Anesthesia, Obstetric Anesthesia, Pain Management, Pediatric Anesthesia , Patient Safety, Simulation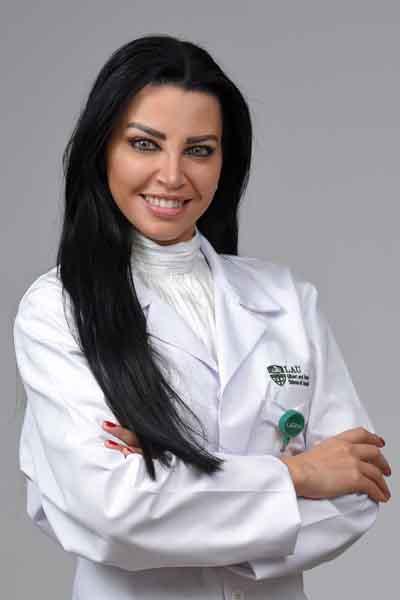 Hanane Ziadeh, MD Clinical instructor Obstetrics and Gynecology Obstetrics, pelvic surgery, colposcopy, pediatric gynecology, adolescent gynecology, endometriosis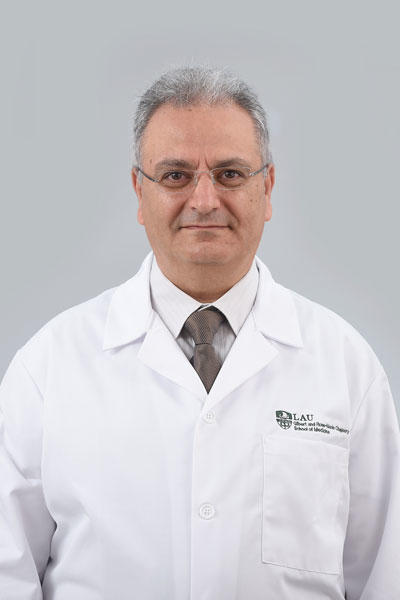 Hussein Farhat, MD Clinical Assistant Professor Laboratory Medicine hematologic disorders, hematologic malignancy, leukemia, lymphoma, myelodysplastic syndrome, anemia, bone marrow diseases, immunodeficiency, blood bank, immunohematology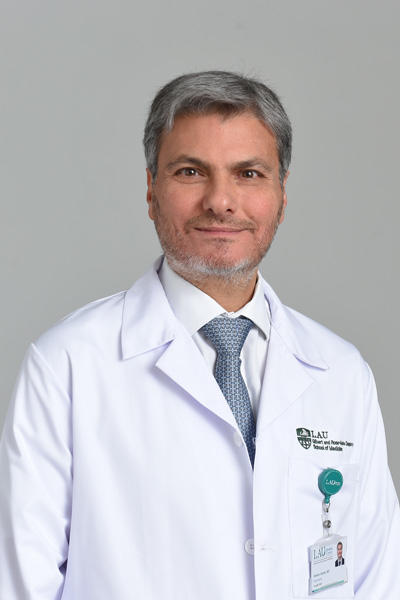 Ibrahim Saikali, MD Clinical Assistant Professor Neurosurgery Surgery Neurosurgery, intracranial aneurysms, cerebral arteriovenous malformations, brain tumors, pituitary tumors, skull base tumors, vestibular schwannomas, spinal cord tumors, pediatric brain tumors, craniosynostosis, epilepsy, epilepsy surgery, endoscopic surgery, spinal surgery, spine disorders, peripheral nerve surgery, peripheral nerve disorders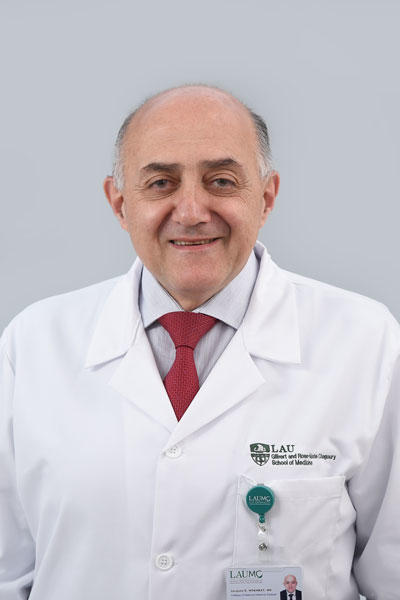 Jacques Mokhbat, MD Clinical Professor Infectious Diseases Internal Medicine Infectious Diseases, Clinical Microbiology, HIV, AIDS, Sexually Transmitted Infections (STI), STD, Antibiotics, Antibiotic Resistance, Immunocompromised Patient


Jamal Bleik, MD Clinical Professor Ophthalmology Ophthalmology, strabismus, phaco cataract surgery, intraocular lens IOL, premium IOL, pediatric ophthalmology, pediatric cataract, general ophthalmology, comprehensive ophthalmology, crossed eyes, squint, eye surgery, amblyopia, lazy eye, eye doctor, diplopia, double vision, eye muscles, childhood cataract


Jinane El Khoury, MD Clinical Assistant Professor Dermatology Psoriasis, atopic dermatis, acne, dermatology, bullous diseases, vulvar pathology, eczema, alopecia, hair loss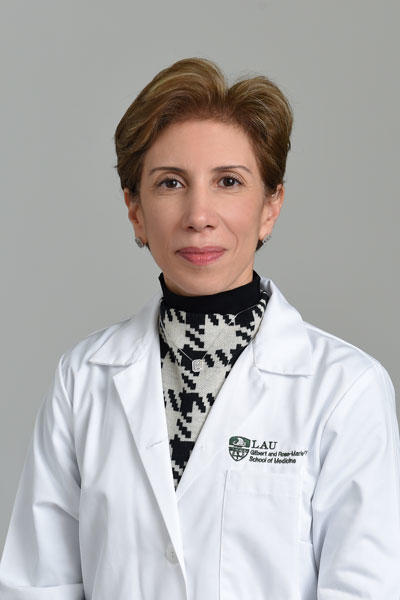 Jocelyne Azar, MD Clinical Assistant Professor Psychiatry Internal Medicine schizophrenia, depression, mania, bipolar disorder, anxiety disorder, eating disorder, substance abuse, personality disorder, mental illness, OCD, obsessive compulsive disorder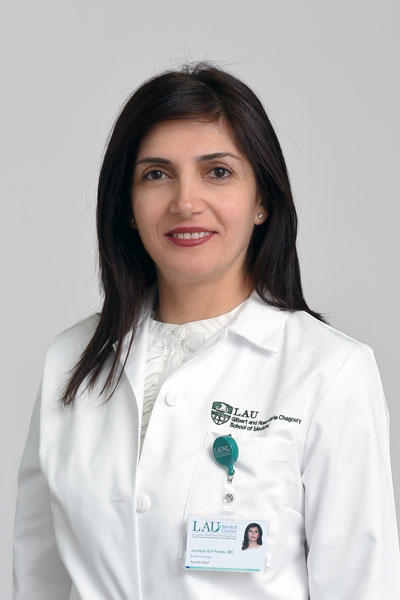 Jocelyne Eid Fares, MD Clinical Assistant Professor Endocrinology Internal Medicine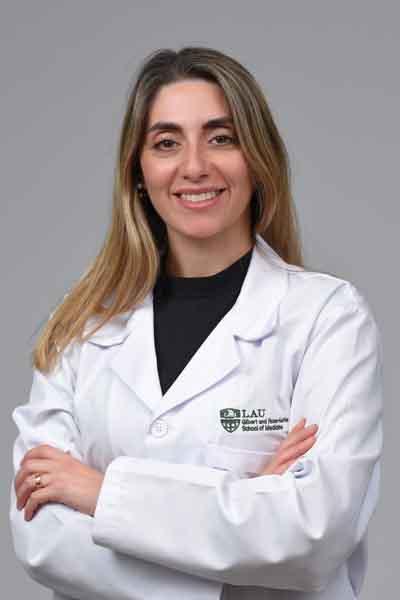 Joumana Kmeid, MD Clinical Assistant Professor Internal Medicine Infection, COVID, coronavirus, virus, bacteria, fungal infection, antibiotics, fever, vaccine, travel medicine, tuberculosis, brucellosis, sexually transmitted diseases, STD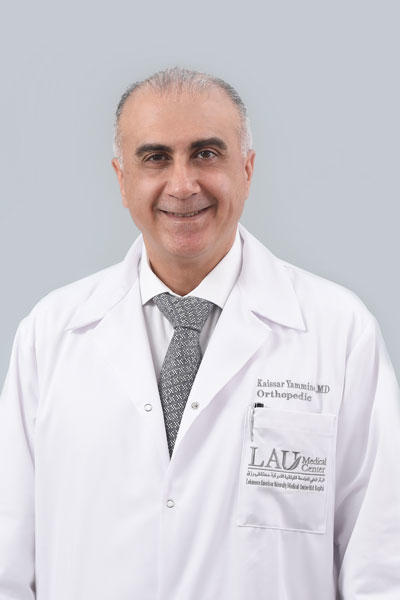 Kaissar (Cesar) Yammine, MD, MPH, PhD Clinical Associate Professor Orthopedic Surgery and Trauma hand trauma, hand deformities, Foot & ankle disorders, diabetic foot syndrome, diabetic foot ulcer, broken ankle, sprained ankle, hand fracture, wrist fracture, dislocation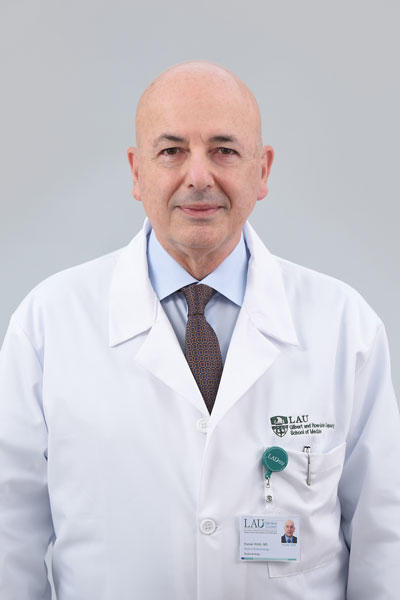 Kamal Hirbli, MD Clinical Associate Professor Endocrinology Internal Medicine epidemiology, diabetes, lipid, dyslipidemia, obesity, thyroid disease, parathyroid disorders, adrenal disorders, pituitary disorders, polycystic ovary, high cholesterol, metabolic syndrome, lipid disorder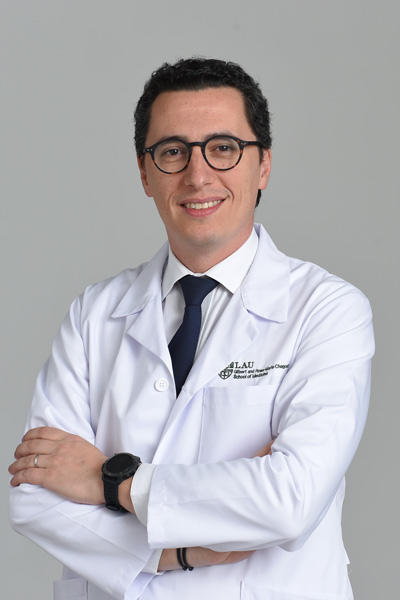 Karl Jallad, MD Clinical Assistant Professor Urology Obstetrics and GynecologySurgery Pelvic organ prolapse, urinary incontinence, mesh complications, episiotomy pain, menopause transition, pain with intercourse, fecal incontinence, vesicovaginal fistula, rectovaginal fistula, vaginoplasty, labioplasty, vaginal rejuvenation, rectocoele, fibroids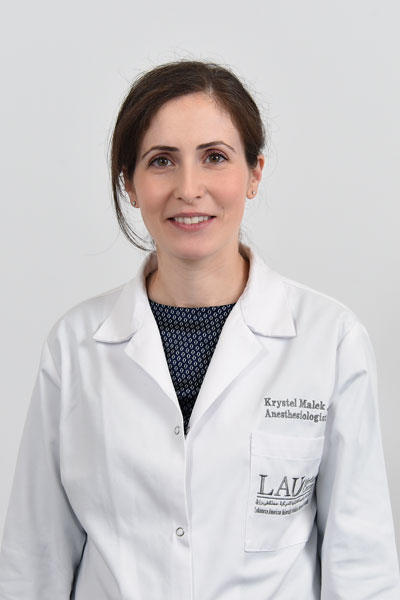 Krystel Malek Saade, MD Clinical Instructor Anesthesiology anesthesiology, pediatric anesthesia, neonatal anesthesia, medical education, pediatric airway, neonatal airway, difficult airway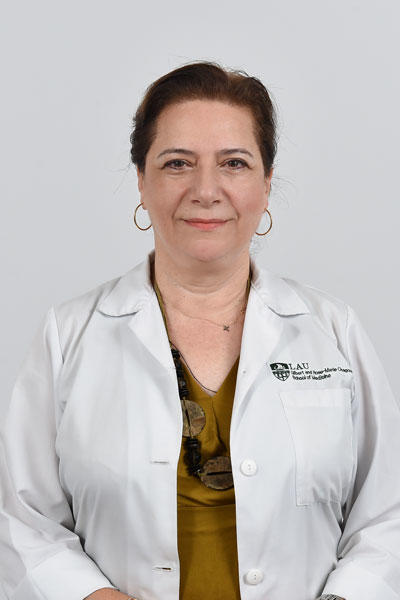 Laure Irani, MD Clinical Instructor Rheumatology Internal Medicine Rheumatology, connective tissue disease, vasculitis, densitometry, osteoporosis, osteoarthritis, degenerative arthritis, rheumatoid arthritis, ankylosing spondylitis, Behçet syndrome, low bone density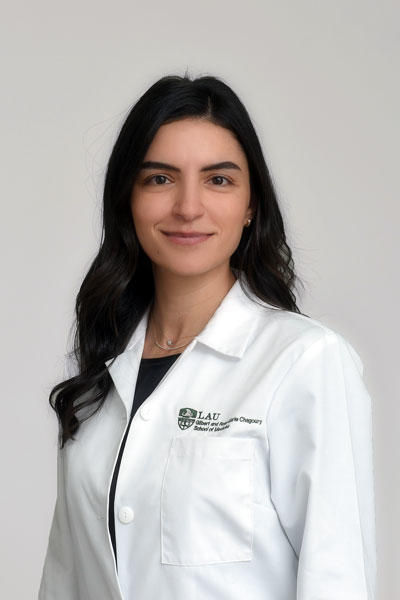 Lena El Hachem, MD Clinical Associate Professor Obstetrics and Gynecology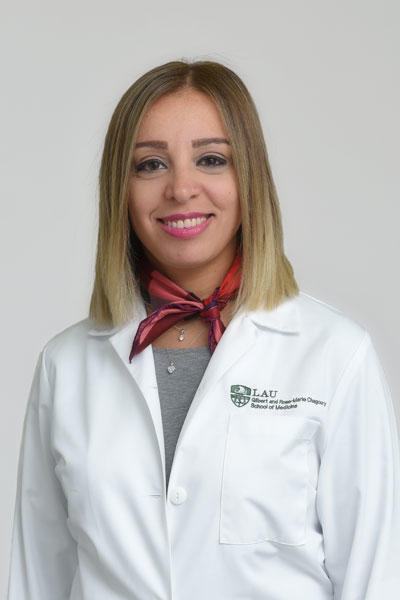 Mariana Helou, MD Clinical Assistant Professor Emergency Medicine Internal Medicine Emergency, Cardiac arrest, ACLS, Heart attack, Cardiac arrhythmia, Polytrauma, Disaster, Simulation, Stroke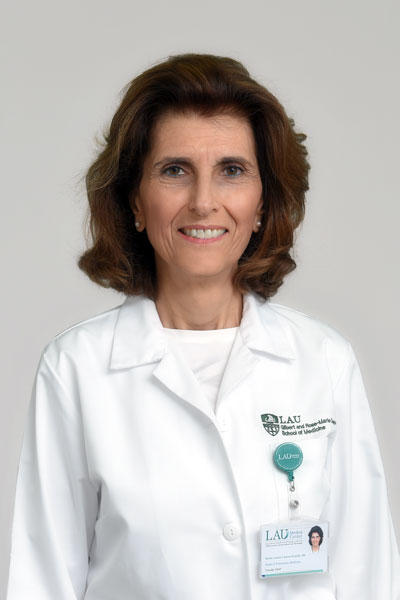 Marie-Louise Coussa-Koniski, MD Clinical Associate Professor Critical Care MedicinePulmonary Diseases Internal Medicine Chronic Obstructive Pulmonary Disease, COPD, Sleep Apnea, Pulmonary Fibrosis, Pulmonary Hypertension, Air Pollution, Smoking, Acute Respiratory Distress Syndrome, ARDS, Lung Cancer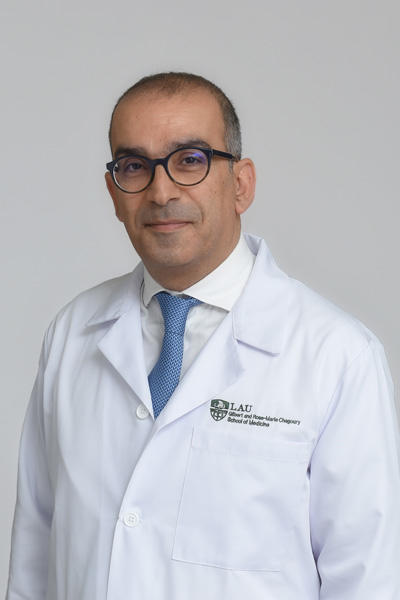 Maroun Matar, MD Clinical Assistant Professor General PediatricsPediatric Neonatology Pediatrics general pediatrics, care of the newborn, preventive medicine, vaccines, pediatric intensive care unit, neonatal intensive care unit, simulation, NRP-Neonatal Resuscitation Program, PALS-Pediatric Advanced Life Support, clerkship director, diseases of newborn, pediatric conditions, children's diseases, vaccine, neonatology, newborn diseases, well child visit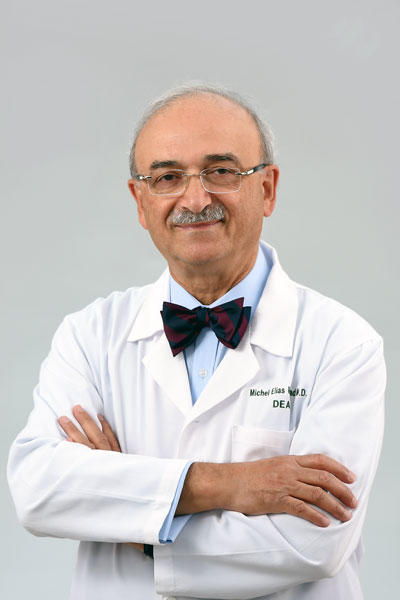 Michel E. Mawad, MD President of Lebanese American University
Professor Interventional Neuroradiology Medical Imaging Stroke, intracranial aneurysm, neuroradiology, interventional radiology, thrombectomy, angioplasty, cerebral arteriovenous malformation, pediatric cerebral malformations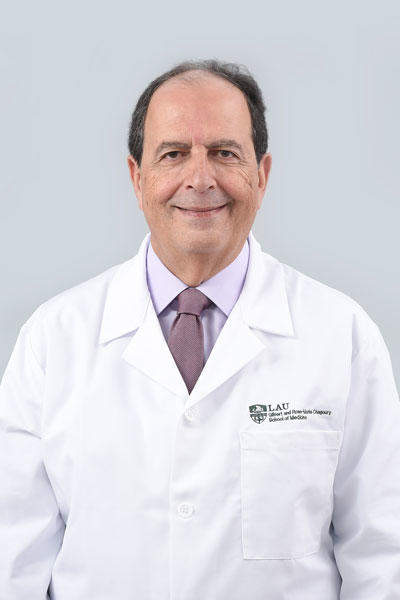 Michel Samaha, MD Clinical Assistant Professor Obstetrics and Gynecology Obstetrics, obstetrical conditions, gynecology, urinary incontinence, uterine fibroids, endometriosis, gynecologic disorders, infertility


Nancy Maalouf, MD Clinical Assistant Professor Neurology Epilepsy, Alzheimer's disease, dementia, memory loss, stroke, multiple sclerosis, headaches, migraine, trigeminal neuralgia, neuropathy, myopathy, Parkinson's disease, dystonia, amyotrophic lateral sclerosis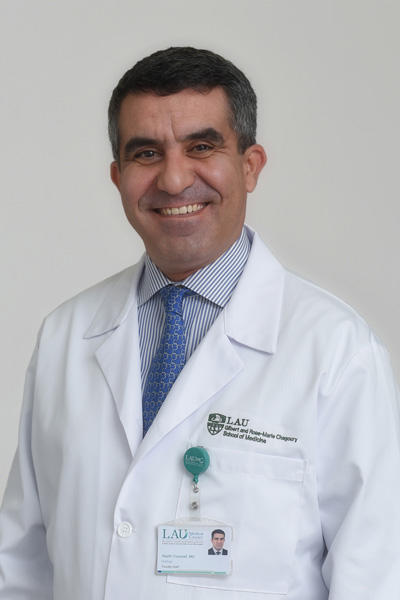 Nazih Youssef, MD, MHPE Clinical Assistant Professor Urology Surgery Urology, Endoscopy, Trans-Urethral resection, Ureteroscopy, PCNL, Stones, Kidney cancer, Bladder Cancer, Prostate Cancer, Enlarged Prostate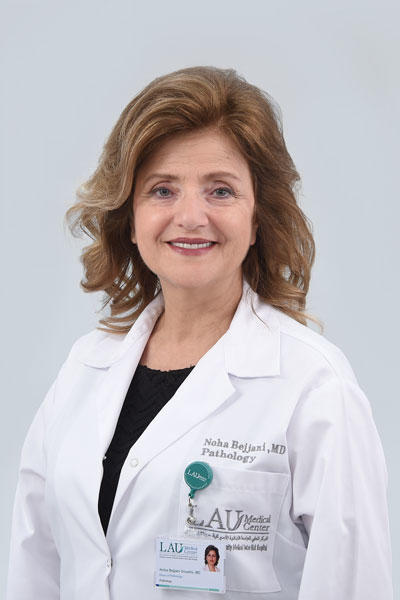 Noha Bejjani, MD Clinical Instructor Pathology general surgical pathology, pathology, cytology


Rachid Rahme, MD Clinical Instructor
Emergency Medicine Internal Medicine Emergency medicine, emergency physician, trauma, accident

Rajaa Chatila, MD Clinical Associate Professor Gastroenterology Internal Medicine acid reflux, dysphagia, achalasia, esophageal cancer, Barrett's esophagus, esophagitis, esophageal varices, gastric cancer, gastric ulcers, gastric bleeding, gastritis, Helicobacter pylori, H. pylori, gastric polyps, nausea and vomiting, small bowel tumors, celiac disease, small bowel bleeding, angiodysplasia, small bowel obstruction, acute diarrhea, chronic diarrhea, constipation, gallstones, gallbladder diseases, bile duct disease, jaundice, liver disease, cirrhosis, acute pancreatitis, chronic pancreatitis, pancreatic cancer, colon polyps, colitis, diverticulosis, diverticulitis, hemorrhoids, anal fissure, colon cancer, gastrointestinal bleeding, gastric balloon, gastric fistula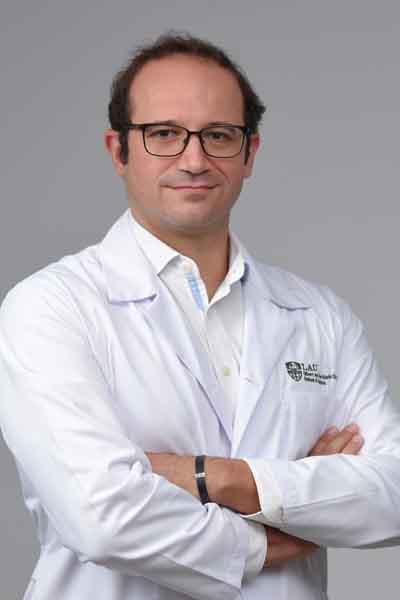 Ralph Nehme, MD Clinical Instructor of Critical Care Medicineof Pulmonary Diseases Internal Medicine Pulmonology, pulmonary disease, chronic obstructive pulmonary disease, COPD, asthma, lung cancer, pneumonia, allergy, interventional pulmonology, endobronchial ultrasound, EBUS, pulmonary function test, PFT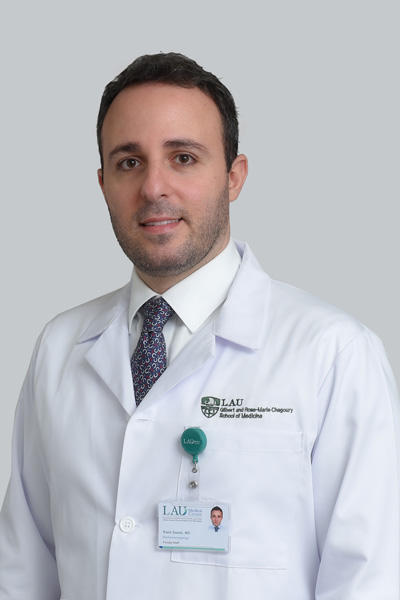 Rami Saade, MD Clinical Assistant Professor
Acting Chair, Department of Otolaryngology-Head & Neck Surgery Otolaryngology - Head & Neck Surgery ENT, otolaryngology, head and neck cancer, larynx cancer, larynx tumor, tongue cancer, tongue tumor, throat tumor, parotid surgery, salivary gland tumor, cheek mass, dysphagia, difficulty swallowing, epistaxis, nose bleed, nasal tumor, sinonasal tumor, maxillary tumor, maxillectomy, carotid body tumor, neck mass, neck dissection, thyroid surgery, skin cancer, skin tumor, rhinoplasty, septoplasty, sinusitis, endoscopic sinus surgery, adenoidectomy, tonsillectomy, tympanostomy tubes, tonsillitis, hoarseness, sinusitis, obstructive sleep apnea, tinnitus, vertigo, hearing loss, ear pain, otalgia, sore throat, allergy, parotid gland tumor, sinus infection


Ramzi Nakhle, MD Clinical Instructor Internal Medicine Emergency medicine, trauma, Point-of-Care Ultrasound, POCUS, resuscitation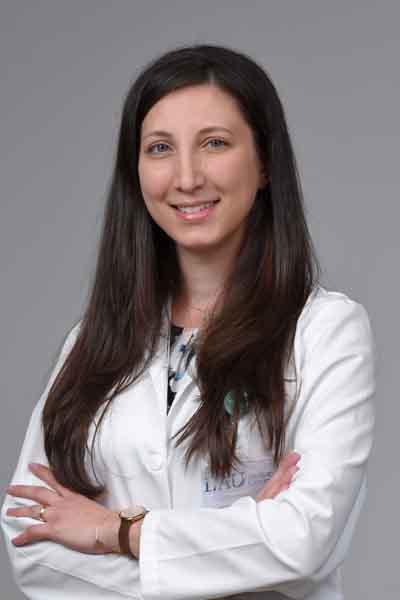 Rana E. Barake, MD Clinical Assistant Professor
Otolaryngology - Head & Neck Surgery ENT, otolaryngology, tinnitus, dizziness, vertigo, Meniere's disease, migraine, ataxia, concussion, BPPV, benign positional vertigo, hearing loss, facial nerve paralysis, temporomandibular joint disorder, jaw joint, TMJ, ear pain, otalgia, mastoiditis, dysphagia, sore throat, difficulty swallowing, dysphonia, epistaxis, nose bleed, turbinectomy, septoplasty, allergy, sinusitis, endoscopic sinus surgery, adenoidectomy, tonsillectomy, tympanostomy tubes, tonsillitis, rhinitis, hoarseness, OSA, obstructive sleep apnea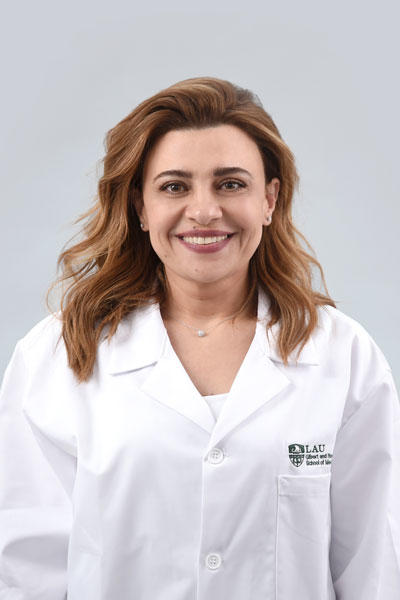 Rania Sakr, MD Clinical Instructor Family Medicine Internal Medicine Eczema, urticaria, hair loss, hirsutism, mycosis, rashes, psoriasis, acne, conjunctivitis, stye, chalazion, upper respiratory tract infection, acute bronchitis, pneumonia, otitis , allergic rhinosinusitis, tinnitus, gingivitis, vertigo, headache, migraine, tremor, Parkinson, neuropathies, asthma, chronic obstructive pulmonary disease (COPD), heart failure, coronary artery disease (CAD), peripheral vascular disease, hypertension, diabetes , dyslipidemia, reflux disease (GERD), dyspepsia, gastritis, peptic ulcer disease, diarrhea, constipation, irritable bowel syndrome (IBS), inflammatory bowel disease (IBD), pyelonephritis, nephrolithiasis, cystitis, prostatitis, vulvovaginitis, menstrual irregularities, pelvic inflammatory disease (PID), sexually transmitted diseases (STDs), vasculitis, type 2 diabetes mellitus, obesity, menopause, high cholesterol, anemia, neck pain, dizziness, dysphagia, prostate enlargement (BPH), gout, hemorrhoids, hypothyroidism, insomnia, joint pain, low back pain, malaise, fatigue, osteoarthritis, rheumatoid arthritis, osteoporosis, polymyalgia rheumatica, depression , anxiety, Vitamin D deficiency, pregnancy follow up, vaccination, wellness examination, child health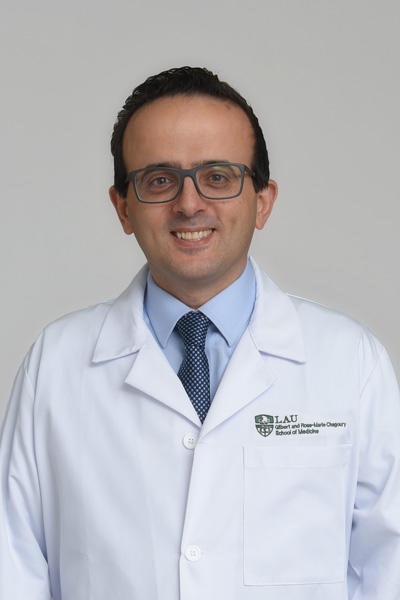 Riad Azar, MD Clinical Professor Gastroenterology Internal Medicine acid reflux, dysphagia, achalasia, esophageal cancer, Barrett's esophagus, esophagitis, esophageal varices, gastric cancer, gastric ulcers, gastric bleeding, gastritis, Helicobacter pylori, H. pylori, gastric polyps, nausea and vomiting, small bowel tumors, celiac disease, small bowel bleeding, angiodysplasia, small bowel obstruction, acute diarrhea, chronic diarrhea, constipation, gallstones, gallbladder diseases, bile duct disease, jaundice, liver disease, cirrhosis, acute pancreatitis, chronic pancreatitis, pancreatic cancer, colon polyps, colitis, diverticulosis, diverticulitis, hemorrhoids, anal fissure, colon cancer, gastrointestinal bleeding, gastric balloon, gastric fistula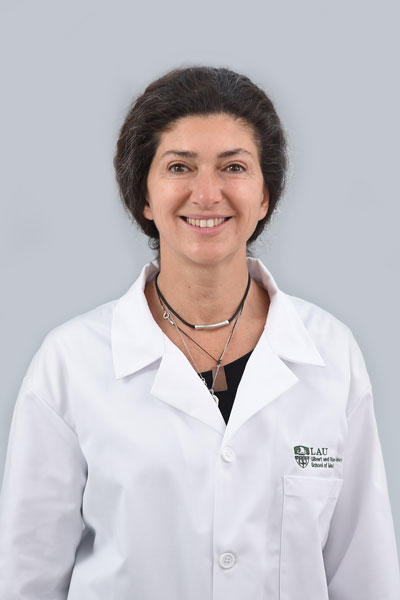 Rima Nasser, MD Clinical Assistant Professor Orthopedic Surgery and Trauma hip, knee, orthopedic, sports, sports injury, knee arthritis, hip arthritis, joint replacement, hip pain, knee pain, total hip replacement, total knee replacement, arthroscopy, hip preservation, hip arthroscopy, hip replacement, knee replacement, hip prosthesis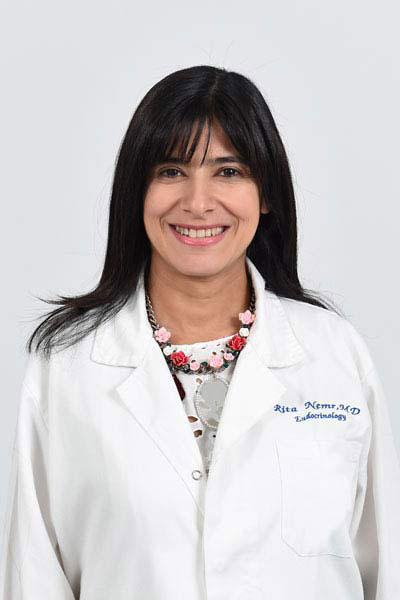 Rita Nemr, MD Clinical Associate Professor Endocrinology Internal Medicine diabetes, thyroid disease, pituitary disorder, adrenal disorder, dyslipidemia, high cholesterol, obesity, lipid disorder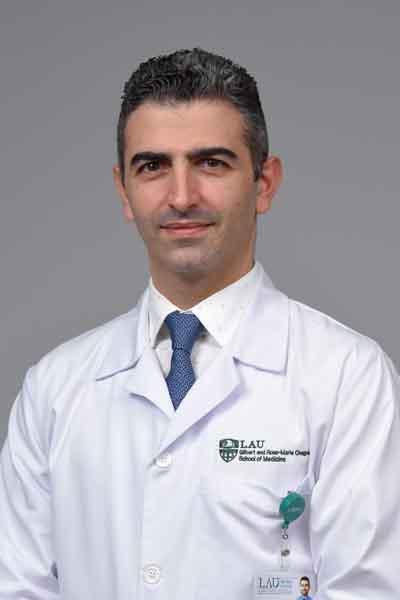 Rodrigue Chemaly, MD Clinical Assistant Professor
Program Director, Residency in General Surgery Minimally Invasive and Bariatric SurgerySurgery Surgery, minimally invasive surgery, bariatric, digestive, colorectal, hernia, laparoscopy, redo bariatric, sleeve gastrectomy, gastric bypass, RYGB, mini-bypass, OAGB, gastroesophageal surgery, peritoneal catheter


Roland Seif, MD Clinical Instructor Ophthalmology ophthalmology, glaucoma, glaucoma surgery, minimally invasive glaucoma surgery, cataracts , refractive errors, myopia, hyperopia, astigmatism, presbyopia, dry eye, diabetic retinopathy, vision problems, nearsighted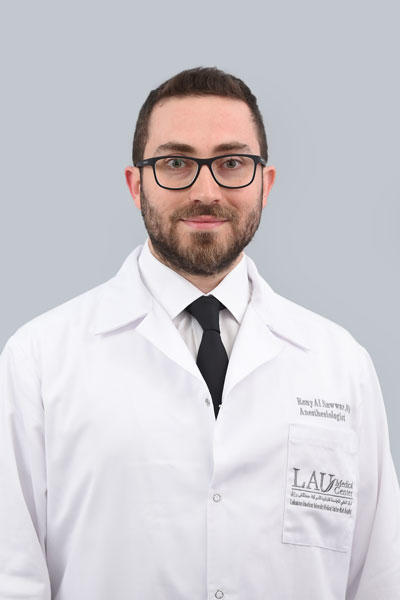 Rony Al Nawar, MD Clinical Instructor Anesthesiology Head and neck anesthesia, difficult airway, awake fiberoptic intubation, jet ventilation, paravertebral block, head and neck cancer, gynecologic cancer, ultrasound—guided regional anesthesia, guided nerve blocks

Roula Husni Samaha, MD Clinical Professor Infectious Diseases Internal Medicine infection, infectious disease, UTI, urinary infection, FUO, fever of unknown origin, adult vaccination, antibiotic resistance, coronavirus, COVID 19, immunocompromised patient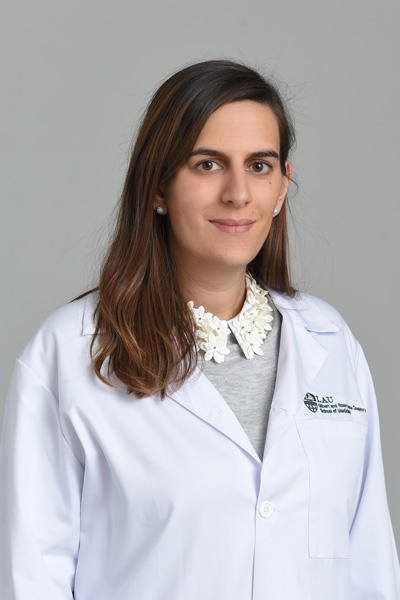 Sahar Semaan, MD Clinical Assistant Professor Diagnostic Radiology Medical Imaging Abdominal MRI, Prostate MRI, Musculoskeletal imaging, Ultrasound-guided steroid/PRP injection, MR Arthrogram, CT Arthrogram, MR Enterography


Samer Traboulsi, MD Clinical Assistant Professor Urology Surgery Benign bladder diseases, benign prostate diseases, male infertility, priapism, urinary obstruction, urinary stone disease, urologic infections, UTI, sexually transmitted diseases, STD, vasectomy, adrenal cancer, bladder cancer, kidney cancer, penile cancer, prostate cancer, testicular cancer, ureteral cancer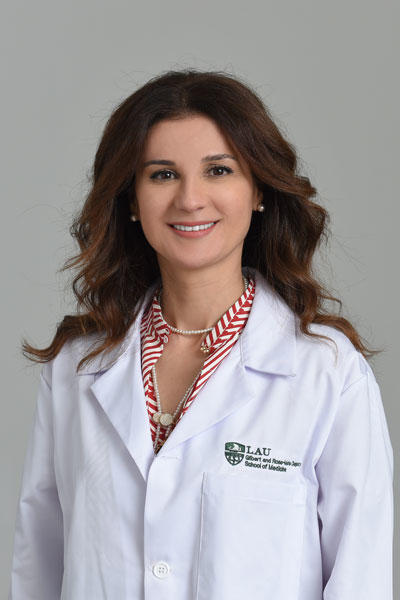 Sola Aoun Bahous, MD, PhD, MHPE Dean
Professor
Associate Dean for Medical Education Nephrology Internal MedicinePharmacology hypertension, hypotension, cardiovascular risk, arterial stiffness, central pressures, chronic kidney disease, acute kidney injury, electrolyte imbalance, renal artery stenosis, hyperaldosteronism, secondary hypertension, kidney failure, dialysis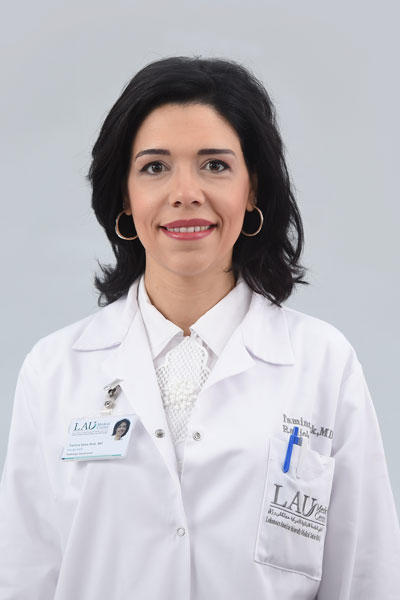 Tamina Elias Rizk, MD Clinical Instructor Diagnostic Radiology Medical Imaging Radiology, breast cancer screening, breast diagnostic imaging, breast biopsy, breast interventional radiology, preoperative localization, high-risk breast patient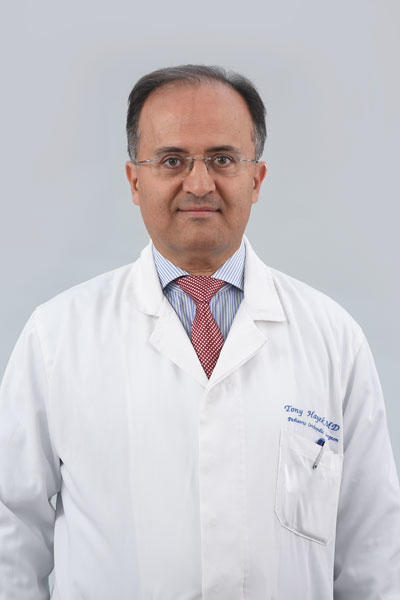 Tony Hayek, MD Clinical Associate Professor Orthopedic Surgery and Trauma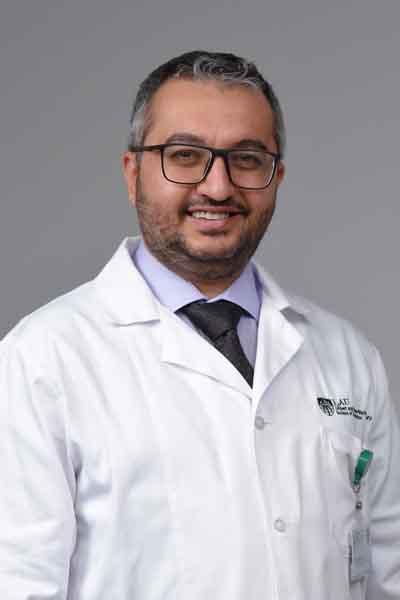 Toufic Chaaban, MD Clinical Assistant Professor Critical Care MedicinePulmonary Disease Internal Medicine Pulmonary diseases, pneumonia, asthma, chronic obstructive pulmonary diseases, copd, bronchiectasis, interstitial lung diseases, pleural effusion, bronchiectasis, lung cancer, stroke critical care, neurocritical care, status epilepticus, subarachnoid hemorrhage, intracranial hemorrhage, sepsis, shock, bronchoscopy, thoracentesis

Vanda Abi Raad, MD, MHPE, EMBA Clinical Professor Anesthesiology Anesthesiology, Regional Anesthesia, Medical Education, Simulation Based Education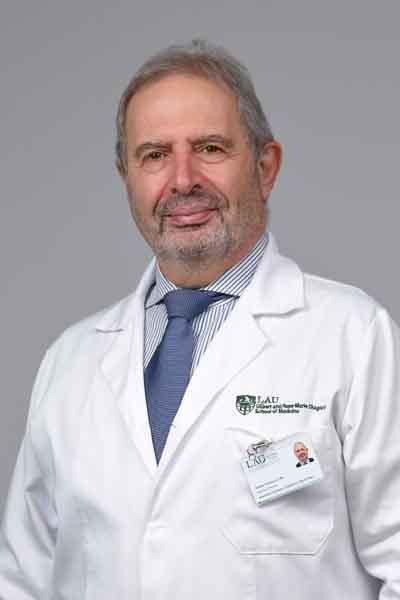 Wadih Ghaname, MD Clinical Associate Professor, Obstetrics and Gynecology Normal pregnancy, high-risk pregnancy, laparoscopic hysterectomy, ceasarean section delivery, operative hysteroscopy, hysterectomy, myomectomy, ovarian cystectomy, uterine fibroid, ovarian cyst, general gynecology, oncologic gynecology, uterine cancer, cervical cancer, ovarian cancer, breast disease, breast cancer surgery, uro-gynecology, genital aesthetic surgery, genital reconstructive surgery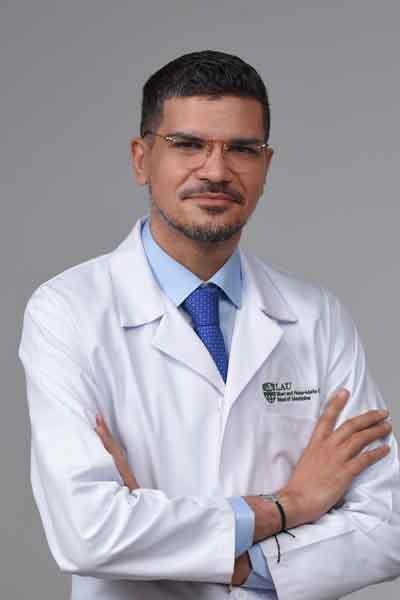 Wael Salame, MD Clinical Assistant Professor of Psychiatry Internal Medicine Borderline personality disorder, transcranial direct current stimulation (tDCS), impulse control disorder (ICD), adolescent psychiatry, gender identity disorder (GID), gender dysphoria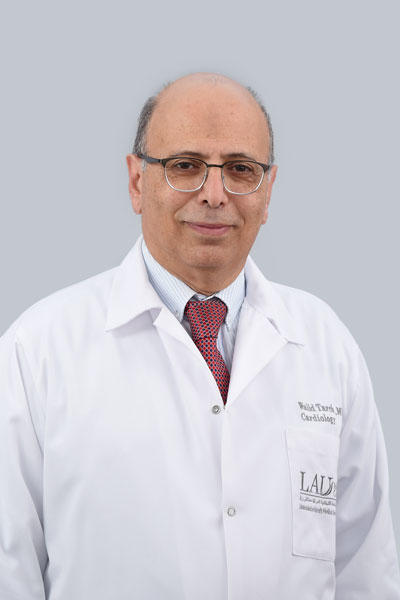 Walid S. Tarcha, MD Clinical Assistant Professor Cardiology Internal Medicine coronary artery disease, hypertension, heart failure, interventional cardiology, non-interventional treatment of coronary disease, heart attack, M.I., myocardial infarction, chest pain, blocked stent, CAD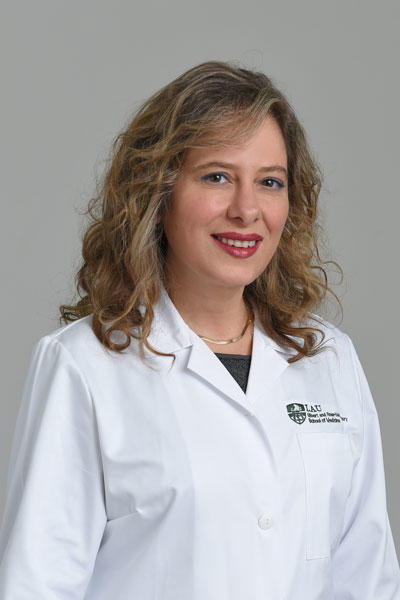 Zeina S. Tannous, MD Professor Dermatology Vascular birthmarks, hemangioma, portwine stains, capillary malformation, pediatric dermatology, laser, pulsed-dye laser, vascular laser, fractional lasers, laser hair removal, skin cancer, melanoma, basal cell carcinoma, squamous cell carcinoma, actinic keratosis, Mohs micrographic surgery, dermatologic surgery, cosmetic dermatology, botox, fillers, peeling, PRP, facial rejuvenation, scars, wrinkles